Read Dr. Van K. Tharp's (of the Van Tharp Institute) reader testimonial of The Intrepid Way.
=====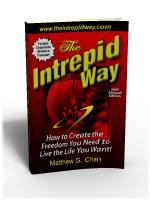 If you want to be personally and financially free, "The Intrepid Way" is the book to read. Matthew Chan shows you exactly what he did in his exciting journey toward financial freedom. You'll learn about multiple streams of income. Financial freedom is all about having multiple streams of income coming in so that you don't have to work.
You'll learn how to change your thinking to be become financially free. "The Intrepid Way" shows you exactly what you need to do.
I know Matthew personally and professionally. He has streams of income from the Internet, from royalties, from real estate and several other ventures. Everything Matthew says in "The Intrepid Way" really works and I highly recommend that you look at it.
Van K. Tharp, Ph.D.
Best-selling Author of "Trade Your Way to Financial Freedom"