=====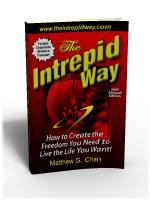 In "The Intrepid Way", author Matthew Chan bypasses the motivational cheerleading of many other multiple income stream books and delivers a practical step-by-step method to create personal financial freedom and time freedom through the creation of passive income streams. His coverage of financial principles, work principles, the entrepreneurial mindset, and the importance of personal and professional support networks gives this book a depth not often found in others of the genre.
Modest expectations and attitude make philosophy and methods approachable
In sharp contrast to many other multiple income stream wizards, Chan is remarkably modest, both in his own attitude and in the expectations he sets for the reader.In his intro, he tells the story of how he finally got motivated to write the book based on conversations with two friends envious of his lifestyle:
"In both cases, they knew I was not rich, nor was I living high on the hog. I simply lived a fairly middle-class life from a material point of view. Yet, from a lifestyle point of view, I was going to different places meeting different people working on interesting projects spending time on things that matter to me working largely on my own timetable. I had the monetary freedom and time freedom to do so."
Compared to the dreams of overnight riches offered by so many, this seems attainable to the average reader.Chan also makes the important distinction that this is not all about wealth:
"There is no personal freedom if you have no time freedom. You also do not have personal freedom if you do not have some degree of monetary freedom. You must have both."
Many people mistakenly assume that if they have money, they'll have time, but this is simply not the case. Chan's approach emphasizes a balanced approach for a balanced life.
Solid business principles lay essential foundations
Rather than shying away from some of the more technical topics, Chan tackles them with a combination of visual aids, example stories, and metaphors to suit anyone's learning style and level. His concept of income blocks and income layers, while basically a new face on some old ideas, is an extremely effective tool for communicating the concepts to a mainstream audience. He also explains the basics of (and some of the misconceptions about) cash flow, credit cards, income models, and more, in language easily understood by people who've never attended business school.I was also particularly impressed by Chan's emphasis on personal support networks and business networks, devoting a full chapter to each. As host of the
MasterMind Forums
, the largest business mastermind community on the Web, Matthew certainly knows the value of both. The book is particularly effective in pointing out the types of personal support relationships most people have at their disposal that they might never think of.
Great first book on multiple income, good light read for "those in the know"
The most critical thing I can say about the book is that it's not terribly original. The concepts in the book have, in bits and pieces, been introduced by many others before now. However, Intrepid Waypulls together the information in the most straightforward, least hyped manner I have seen so far. I would highly recommend it as an excellent first book for those interested in creating passive income for themselves.For those already experienced in multiple income streams, though, it may offer little new to you. It's a good light read, and worth it just to hear reminders of some important concepts from a new perspective. However, there's not enough here to really use it as a reference book (that's not what it's intended to be, I don't think), and the lack of an Index would make it difficult to do so, anyway.I give the book four stars, but Matthew Chan five. Whether you buy the book or not, if you're interested in the topic, I encourage you to hook up with Matthew in the MasterMind Forums and on Ryze. He's definitely someone you want in your network.Scott Allen
Former About.com Guide