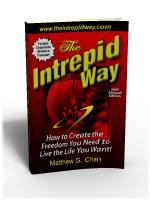 Shortly after my book's release in 2004, Scott Allen of About.com's Entrepreneur Section contacted me and expressed interest in reviewing "The Intrepid Way".  (Incidentally, that 2004 version of the book is now out-of-print and has been replaced by the 2006 Revised Edition of "The Intrepid Way".)
As a first-time author and publisher, I was somewhat uncertain of how the review might turn out but I did agree to submit my book for his review.
I was pleasantly surprised at Scott Allen's review.  He gave "The Intrepid Way" a rating of 4-stars out of 5.
You can read his book review here at the site About.com